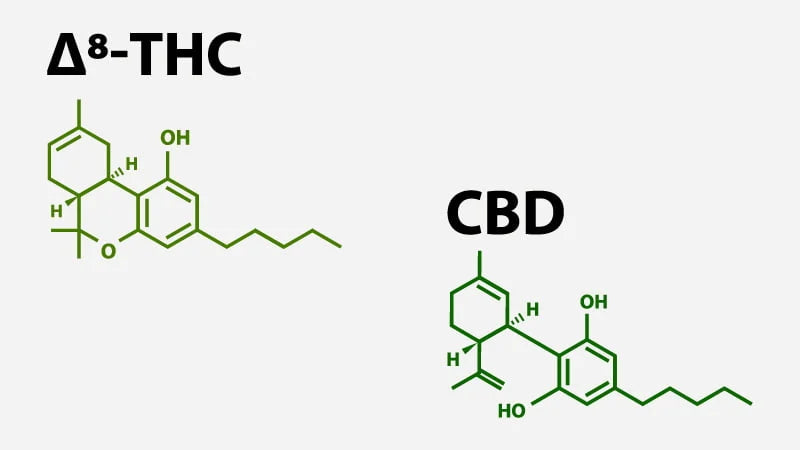 What's the Main Difference between Delta 8 and CBD?
For many people looking into Delta 8, one of the main areas of confusion is whether they should be trying Delta 8 or CBD. As they're both hemp-derived cannabinoids with many touted benefits, it can be hard to determine which one can be a positive addition to your wellbeing. 
The main difference between Delta 8 and CBD is that CBD is non-intoxicating, while Delta 8 is. CBD simply does not get its user "high", whereas Delta 8, as stated previously, can. CBD, much like Delta 8, also interacts with the body's endocannabinoid system to help with Homeostasis, but while Delta 8 generally interacts with receptors in the brain, CBD mostly interacts with receptors in the body. CBD studies have shown that it has the ability to benefit individuals with maintaining functions like sleep wellness, energy levels, and stress, and has had more focus on its potential use than Delta 8 from researchers, such as in CBD's approval for the prescription drug Epidiolex. In contrast, Delta 8 remains under scrutiny from the FDA and other regulatory bodies, and there are zero prescription drugs or supplements that have been approved by the FDA to contain active Delta 8.
Even if you already know which cannabinoid you're interested in, it's worth mentioning that both Delta 8 and CBD can be enjoyed in most of the same ways. Both cannabinoids are available in a large variety of products, with oils in the form of a tincture being probably the most versatile. Tinctures have distinct advantages over other forms: they can come in all sorts of sizes and concentrations, can be enjoyed directly or as an addition to other methods, and can include other cannabinoids like CBD and CBN as well. 
Since oils are also likely the least understood for how they can be used, we'll go into more detail to understand how Delta 8 oil is typically made.